As we age, it is normal for hair loss, thinning, and gray hairs to increase. There are many possible causes for the sudden appearance of change in once abundant hair, including stressful life events such as childbirth and menopause, stress, and hairstyles that were too rigid in the 20s and 30s. While aging is not fundamentally bad, many people are looking for ways to rejuvenate their hair. Fortunately, there are ways to stimulate hair growth and restore hair to optimal health naturally.
While hair loss may not directly affect your health, it can have a considerable psychological impact. Factors that contribute to hair thinning include:
Genetics
Hormonal issues
Fungal infections of the scalp
Stress
Chronic diseases
Nutritional deficiencies
There are measures you can take to restore your hair naturally. Numerous techniques can help thicken hair naturally and reduce breakage and hair loss. Below are some effective home remedies for hair growth and hair thickening.
Methods for Natural Hair Growth
1) Massage
Scalp massage is an excellent treatment for hair thinning in women because it strengthens the hair and stimulates thickness. Massage activates the papilla cells at the base of the hair follicles, helping grow thicker hair. The hair growth, regeneration, epilation, and renewal processes depend on these cells. Blood flow and scalp health are improved by massage. Besides, massaging the scalp for a few minutes daily may relieve tension and stress.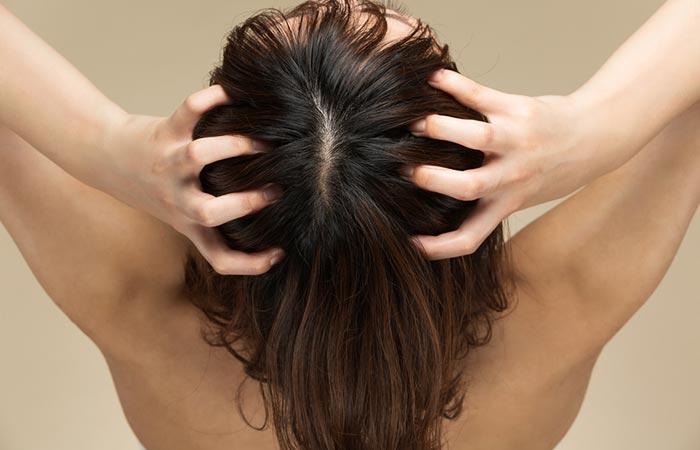 2) Avoid Stress
Stress and hair loss are directly related. Just as physical and emotional trauma can affect the body, it can also affect hair follicles and stop them from growing. Chronic stress can contribute to slow hair loss. Excessive shedding, hair loss around the forehead area, and significant hair breakage may occur within 3 to 6 months after stress.
3) Use Ammonia-Free Hair Dyes
The elevated pH value of ammonia in hair dyes can damage the scalp and hair follicles and weaken the structural strength of the hair. Also, do not use products containing para-phenylenediamine, hydrogen peroxide, ammonia, or ethanolamine. Fortunately, many hair dye brands have improved their formulas to be less damaging to hair, making them ammonia-free and leaving hair shinier and softer after coloring.
4) Aloe Vera
Traditionally, aloe vera has been used to treat thinning hair. It also nourishes the hair and soothes the scalp. Applying aloe vera can reduce dandruff and open up hair shafts blocked by excess sebum; for natural hair growth in three weeks, massage hair from root to tip with natural aloe vera gel several times a week.
5) Coconut Oil
The lauric acid in coconut oil penetrates the hair and reduces protein loss in the hair. If hair is somewhat dry, coconut oil may be used overnight as a leave-in treatment. Coconut oil has been proven to moisturize the hair shaft and reduce breakage.
6) Viviscal
Viviscal is a naturally derived hair growth supplement that promotes hair regeneration for those suffering from thinning hair. It contains a marine supplement called AminoMar C, a mix of vitamin C, organic silica, shark cartilage powder, and seashell powder. These ingredients can strengthen existing cells and promote cell regeneration. The capsules should be taken twice daily for a minimum of 6 months to see results.
7) Fish Oil
Omega fatty acids, which are high in protein and nutrients, can be effective from within the hair. Omega-3 fatty acid supplements, when combined with antioxidants, increase hair density and length. They also reduce hair loss. Omega-3 fatty acids can support healthy cell function, strengthen the immune system, and improve overall health.
Let us know if these few tips have helped in the comments below!